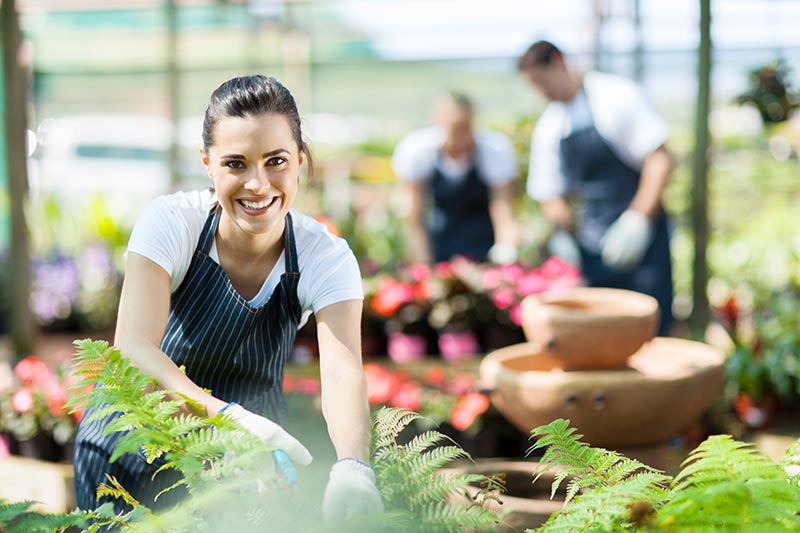 The well-done website serves as an excellent advertisement for a business and attracts potential buyers and customers. Landscaping and lawn care websites are not an exception. Companies and individuals who are interested in these services usually pay attention not only to the convenience of resource but also to its appearance, therefore such a website should be not only easily understandable but also visually appealing. In addition to a well-executed website, you need special landscape business software for a successful business, which will greatly simplify the dozens of work processes. For example, that could be a Software for landscaping business by ManageMart. It can make the work of the company simpler, more enjoyable and much more profitable in general. If you decide to create a website for landscaping and lawn care business, then below you will find their good and successful examples. They will be very useful for developers because the analysis of several already existing objects is much easier than the trial and error method.
1. Salisbury Landscaping
This website can be called a great example of clever design. It has very convenient navigation, so the visitor can very quickly find all the necessary information he needs. Also, on each page of the website are listed the contacts of the company, so that a person can contact the manager at any time regarding the issue of interest. Also, in the gallery section, you can see all the pictures of already completed projects. The company offers such services as landscape design, residential landscaping, commercial landscape maintenance, and commercial snow removal.
This example shows that conciseness, convenient access to information and contacts are a very good solution. Moreover, such a design does not cost a lot.
2. Northwestern Landscaping
This is a website that instead of promises of quality work immediately shows results – on the main page is a portfolio of the company. This allows the site visitor to immediately see the company's capabilities before searching the information. If a potential customer will be impressed by the company's work, he will make order more likely.
If you have examples of your successful work, it makes sense to immediately demonstrate them to all potential customers. A lot of people prefer not words, but deeds, so such an approach can be considered very successful.
3. Robinson Environmental Design
People who ordering landscaping and lawn care services often want to know about each stage of work. The vast majority of them want to know this information even before the beginning of works, and such curiosity can be satisfied by website content and design. This is especially helpful if you provide complex services that may take several days for performance. The customer will certainly be interested to know how many days the work will take and what will be carried out on each day. On this website, you can find out all the customers reviews, portfolio, information about the company and team and the list of services.
To create a successful website, try to imagine what questions your customers may have. Try to give answers to these questions and this will certainly attract a lot of potential customers to you.
4. Dunner's Lawn Service
In order that design solutions in the garden or in the yard always look good to the eye, it is not enough just to create a composition. It needs special care. Dunner's Lawn Service resource shows that the execution of works is not the finish, and subsequent maintenance of the landscape is also necessary. Each visitor of this website can easily get acquainted with the list of additional services such as grass and trees cutting, cleaning leaves, etc. Also, the website offers such services as lawn care, landscaping, spring and fall cleanup, and snow removal as well.
Offer your clients the additional services that probably will be required with time. Customers appreciate this forethought and thanks to it often become regular ones. The operation with all customer services can be greatly simplified by the use of software for landscaping business by ManageMart.
5. High Tech Landscapes Inc.
The website designed as some kind of blog is a good solution. High Tech Landscapes Inc works from 1986 and is one of the leading on the market. The vast majority of people collect as much information about landscape design and lawn care as possible before ordering this or that service. For such people, the various on-topic articles, as well as real customer reviews will be really useful. Thus, if your site is not only convenient but also useful, then this will be another bonus to its attractiveness.
Try to make your website really interesting for your customers. After reading about the latest fashions in the world of landscape design on your resource, they certainly will want to repeat then in own garden or yard and will turn to you for implementation of their dreams. Having a page on social networks will also give additional popularity.
6. Lawn Doctor
This Lawn Doctor website gives the ability to read consumer reviews. Also, the design is quite brights and nice. Among their services, you can request lawn care, mosquito tick, tree and shrub care, grub control and disease control. Even if the company offers quality services and good prices, positive feedback from people will not go amiss. Potential customers are often interested in the opinions of other people, so having reviews on the website would be a good idea.
Create a page where your customers will be able to leave feedback – this will attract new ones, and in addition, increase competitiveness. Of course, you need to make every effort to ensure that customers will be satisfied and leave only positive feedback. Software for landscaping business by ManageMart will help you. Thanks to this software, you can quickly and conveniently manage your business without losing a single important detail.